For #RPGaDAY2015, there's this thing in small print: "Feel free to post something different if you don't have an RPG that matches the description." Given the difficulty I am having coming up with 500 words to determine what an "accessory" is1 and why it doesn't seem to cover supplements, plus that in my Last Year posts, everyone is currently at Gen Con 2014, I'm going to grab onto that and talk about Gen Con. Specifically, Should I Attend Gen Con in the Future?
Gen Con 2015, Day 1: Opening of the Exhibit Hall, courtesy of Gen Con Indy's facebook page.
I have been privately debating that question over the past few months. This morning, I think I've made up my mind. No, I won't be attending Gen Con again, unless it's with a company.2
I've been to three or four Gen Cons, primarily for networking, and I've always found it difficult to connect with people at the show. There's a list of people and companies I want to talk to, but I can somewhat reliably find them only at the Exhibit Hall, where I am acutely aware that the time I take up with someone at a booth is time they aren't selling product to customers. Each year, the hall gets packed with more and more people, so that's fewer and fewer chances I get to interact with people I want to look at for mentoring or work. It's difficult to meet people outside of hall hours as well, because the people I want to meet are meeting up with old friends that they don't get to see except once a year and who wants to devote time to a complete stranger?
I didn't attend this year, which is a shame, because this would have been the first year where I've finally broken through with layout. I'd be recognized by a much larger group of people in the industry than in years prior. In theory, I would have been able to actually network outside the hall hours. But is it worth it?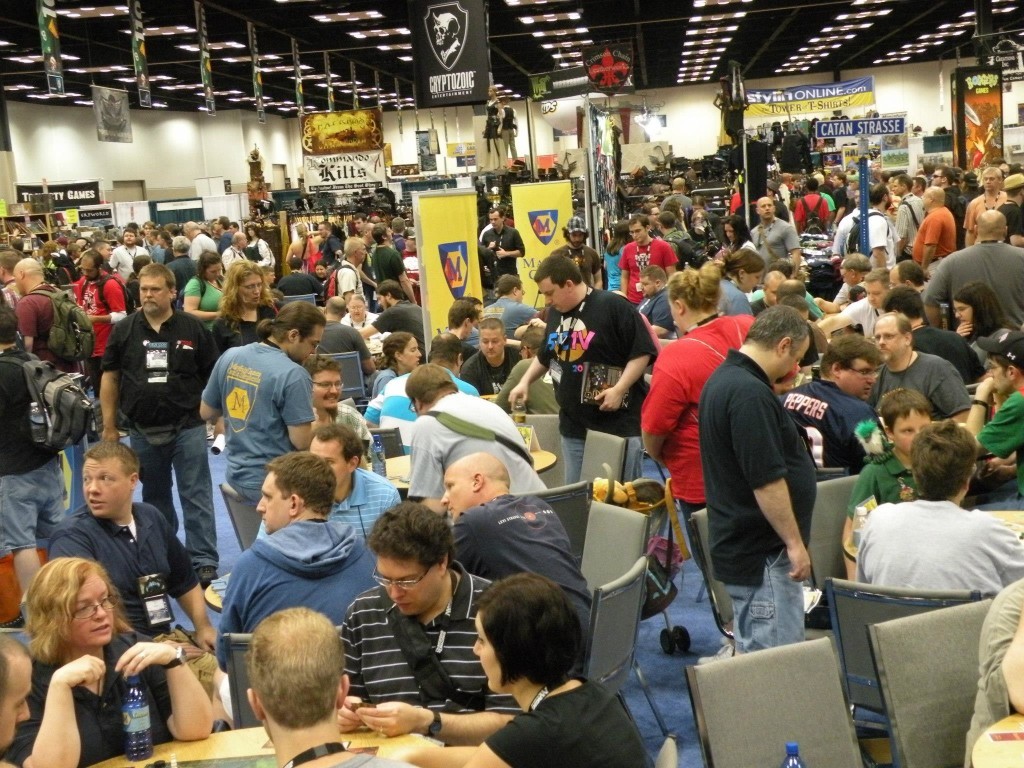 This morning, I'm listening to the first segment of the most recent podcast of Ken and Robin Talk About Stuff, and Ken Hite is talking about how this the first year he didn't get a chance to walk the dealer hall because it was so busy.34 Robin Laws says that in previous years of the convention, you could wander halls at a quiet time and introduce yourself to others, but now there simply is none of that quiet time where that can happen: "The chances of being able to strike up the casual interaction on which so much networking in any field is based is going to be reduced because at night, when we have a chance to sit down and unwind, we're going to be with our tightest homies and not seem to be… approachable."5
And then Ken agrees, suggesting that this is a time when people might want to look at creators' and contacts' convention schedules outside of Gen Con. Gen Con is more for boothwork, playing demos, and living the gamer life 24/7. But it's no longer the best for networking and freelancers. Maybe it should shift to another convention, he suggests: "I hate to say it, because Gen Con used to be great one-stop shopping for freelancers… I would find it amazing if a freelancer was able to get two words of quality time, edgewise, with a busy booth owner."
If folks like Robin Laws and Ken Hite are saying it's rough for someone who is going to Gen Con to find work, yeah, maybe it's time to try someplace else.
Earlier this year, I was discussing possible Origins and Gen Con plans6 with some people on twitter. Origins seems to be a much lower-stress level convention. There's time to talk to gaming industry professionals. There's the Big Bar on 2.
Gen Con is expensive if you're doing it solo. Not the convention, with a four-day pass coming in around $80, but travel expenses, lodging, food. For 2014, Ron Blessing and I (and hopefully his wife, Vern) were going to do This Just In…From Gen Con.7 In preparation for the trip, we looked at what the cost of attending the show was, and how much we would have to raise in sponsorship. About $1100 for the hotel room8 and between $400-600 for plane tickets. Plus transport between airport and hotel. Food: budget in maybe $30 for food a day. That's a lot for just one person to go, looking for work, even if the cost of lodging was split three ways.9 Do I really get $1500 worth of work from attending Gen Con, meeting people for moments, and handing out business cards? Would I have gotten work without fronting a third of a thousand dollars, plane tickets, and eating lunch and dinner out for four days straight? Probably. Maybe.
But now that I'm established in the hobby games market — and worked on two ENnie-award winning products this year — is Gen Con neccessary for me, going on my own?
I can only come up with "not really".
I'm looking at Origins 2016 for next year for me-time. For Gen Con 2016, if I attend, I'll be there as part of a group effort and you'll probably see me working at a booth. If things work out.