Fell a bit behind on the #RPGaDAY2015 thing, but we just had our wedding anniversary over the weekend1 and I'm going to use that as an excuse when, in fact, I was just lazy.2 So. What topics have I missed?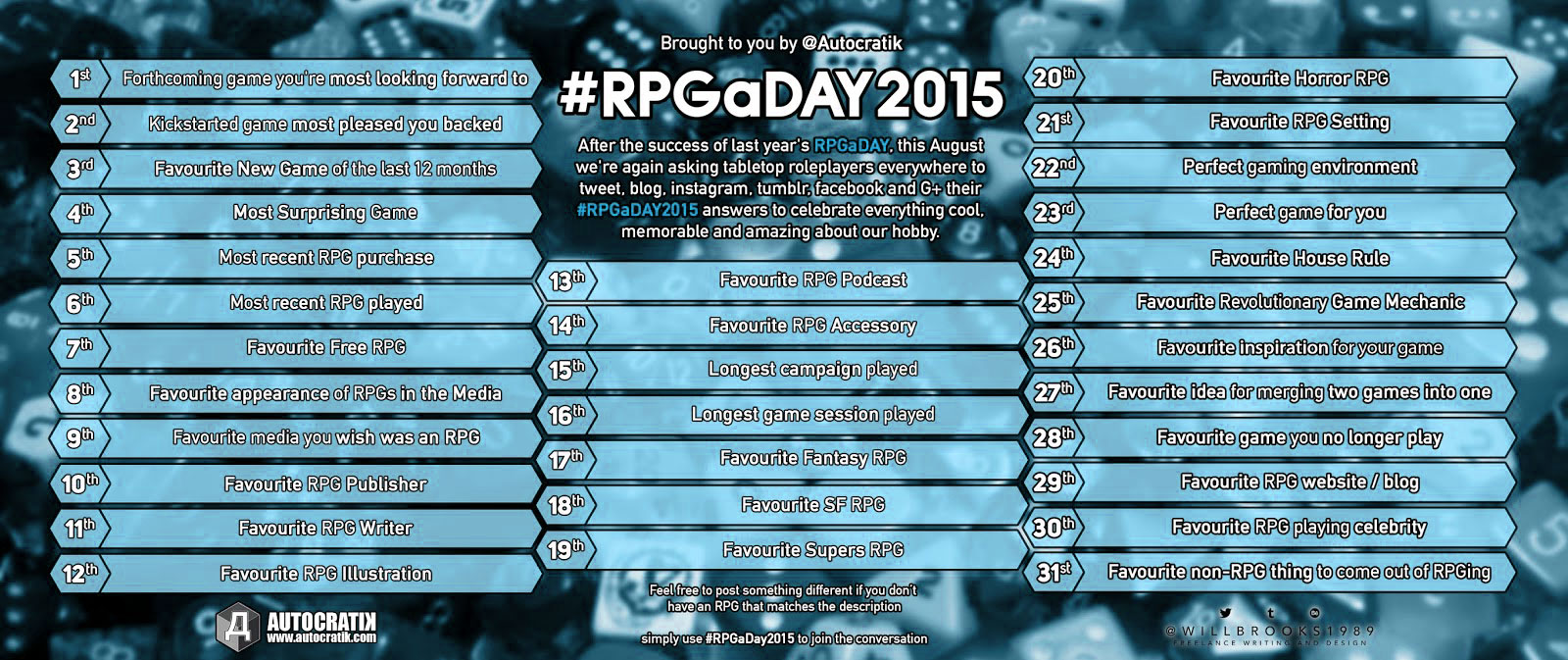 Day 22: Perfect Gaming Environment.
I like a game environment where I have the opportunity to stand up and move. If we're at a table, I just have to stand at times, sit at others. I think I get away with this because I'm usually running games, so when I'm standing, I'm physically elevating myself over the players and it introduces a little psychological trickery, but really I'm just antsy. When I'm playing online, I'm at my standing desk, but there's a high stool that I use to rest on sometimes — I change stance and camera angle a few times during the game session.
So a place where I can change stances.
Other than that, I don't have much of a preference. I've run games in public at game days and conventions — my favorite game, Primetime Adventures, is fantastic for that. In PTA, there's a rule called "Audience Participation", a rule that I don't know if anyone else but I have ever used, where people watching the game being played can contribute to the story. You know, I might be saving that up for the 25th, which is "Favorite Revolutionary Game Mechanic", but you can read more about it in my PTA: Play in Public guide that I should update for the third edition.
My friend Jason loves playing at a table, but his group always spreads out in the living room. That would drive me nuts.
Eighteen. We could send our marriage off to college. [↩]
Busy too, and not just playing Shadowrun Hong Kong. Actual work stuff. [↩]